We are a participant in the Amazon Services LLC Associates Program, an affiliate advertising program designed to provide a means for us to earn fees by linking to Amazon.com and affiliated sites. With any of our links, we only recommend products or services we use personally or believe will add value. We always have your best interest at heart, so please don't purchase products that you don't feel will be beneficial to your health.
Today I'm excited to introduce you to Beth from Red and Honey who is sharing her idea for Raising Healthy Families: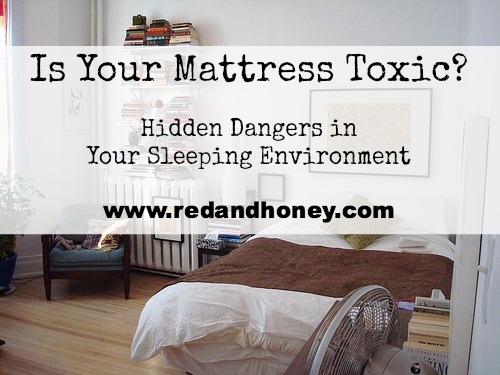 We spend an average of eight hours a night sleeping. That's fifty-six hours per week, or about one third of your whole life. It's even more for babies and children!
Logic would dictate that we would desire a healthy and toxin-free spot to rest our weary heads each night, but unfortunately that can be difficult to find.
Conventional mattresses (and even many labelled "organic" or "natural") contain toxic flame-retardant chemicals that off-gas continuously. Since you are laying directly on it for eight hours every day, this is most definitely a problem. There are multiple links between the toxins found in our sleeping environments and many health issues that plague our society today, such as asthma, allergies, headaches, and SIDS, to name a few.
You may be wondering what can we do about it. Is it really so bad? What if I can't afford an organic mattress? Our family recently took steps to make our sleeping environments safer.
Click over to Red and Honey to read more!
Note: This series is designed as a fun and informative compilation to help you and your family thrive. Each post is the opinion of that particular blogger, not necessarily mine or Positively Real Media's.